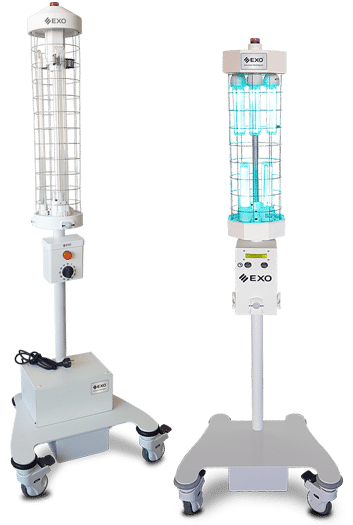 EXO Mobile Germicidal Unit
Transforms environments into spaces free of bacteria, fungi and viruses.
Mobile system for the disinfection of environments and surfaces based on the irradiation of germicidal ultraviolet light. Optimal for inactivating bacteria, fungi and viruses. 1
Thanks to its simple operation, it is only necessary to place it in the place to be disinfected and operate it for the required time. After a few minutes, disinfections of up to 99% can be achieved in the irradiated area. 2
1. According to international experience and research. 2. According to technical literature.
The EXO Andes UV-165 and UV-200 Germicidal Unit can disinfect a 15m² room in less than 15 minutes, with low energy cost and high efficiency.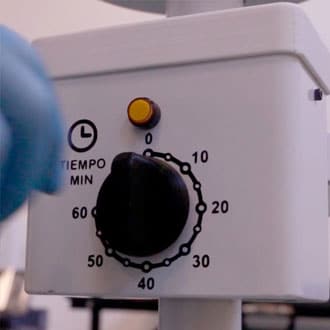 99% effective against existing microbes
The bulbs emit shortwave ultraviolet (UV-C) energy that penetrates and deactivates the DNA of viruses, bacteria and fungi causing their cells to die or be unable to reproduce.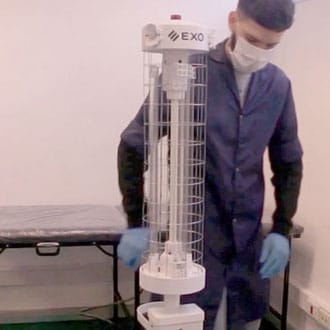 Ideal for environments with high circulation
Hospitals, clinics, outpatient clinics, consulting rooms, inpatient wards, nursing homes and care homes, public care, laboratories, pharmacological centres and all kinds of environments!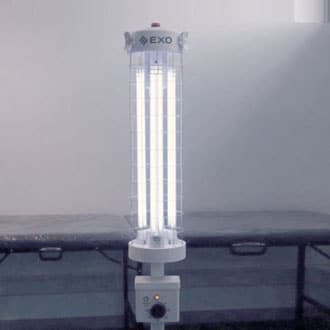 Disinfection of COVID-19 with UVGI Technology
This disinfection technology is very effective against viruses such as COVID-19. The Andes UV-165 is able to disinfect large surfaces quickly and effectively.
Maximiliano Miodowski
, Engineering Manager of
EXO SA
during the
program "Lo Justo y Necesario" of Clara Salguero broadcasted on May 23rd, 2020
.
Link to the original video
.
Download the technical specifications of the Andes UV-165 and UV-200 Germicidal Towers .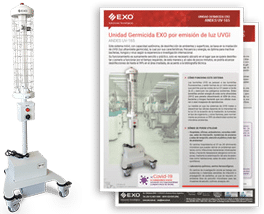 Differentials of the UV-165 model
Timer 5 - 60 minutes
Power 165W
Rechargeable Battery. Built-in. Autonomy of 30 min. for
places without electrical connection. (Special Optional)
Input voltage 110-220V
Lamps 3 UVGI 55Wlamps
We take care of the most important things
We are committed to developing solutions that fit the current context.
Write to us and we will advise you on the most suitable biosecurity solution for your needs.