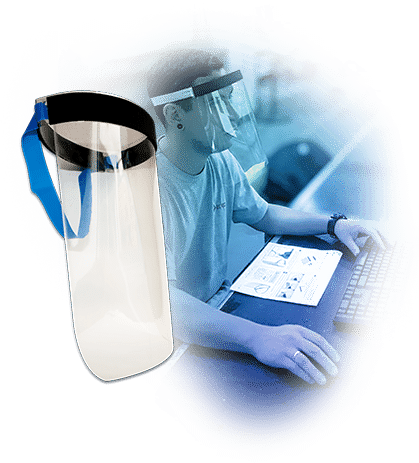 Made of PET glass and sanitary latex
Mechanical barrier that covers eyes, mouth, nose and chin, thus reducing the risk of contagion.
Designed for facial protection of people in general in everyday use.
By acting as a mechanical barrier, covering the eyes, mouth, nose and chin, it prevents the projection of droplets or particles towards or from other people, thus reducing the risks in different situations.
The protection elements that cover the mouth, nose and chin have been declared of MANDATORY USE in the City of Buenos Aires and in different Provinces and Municipalities.
Optimal for use in different areas
Staff of Industries, financial institutions and individuals in general.

Security forces. (Military, police, road safety, private security, etc.).


Customer service areas: supermarkets, logistics, cashiers, etc.
Technical specifications and components
The materials used to make these masks were chosen for their performance.
Prioritizing as objectives:
Can be disinfected and reused,
They must be resistant and functional to protect and allow vision.
Cutting with laser technology
Easy to assemble and interlocking parts design
Manufactured with inert and anti-allergic materials.
Contains no porous or absorbent materials
Does not fog up even when wearing a mask or face mask
Suitable for use with glasses and helmet
Can be reused by washing with alcohol or bleach based solutions.
Includes instructions for use and cleaning
Selected components and materials for EXO Protective Masks
PET crystal screen 30 cm x 24 cm and 300 um / 500 um thick.
Barrier against gases -CO2, O2-, humidity and UV radiation. Waterproof. Resistant to
chemicals. Resistant to wear and tear. High hardness and rigidity. Good thermal properties.
Weather resistant. Working temperatures from -20ºC to 60ºC.
Fully recyclable.
Headband made of soft material, does not leave marks on the skin.
Avoids direct contact of the visor with the skin, protecting it and providing comfort.
Sanitary latex fit, universal size.
We take care of the most important things
We are committed to developing solutions that fit the current context.
Write to us and we will advise you on the most suitable biosecurity solution for your needs.